Gubernatorial Debate
Posted on: June 10, 2016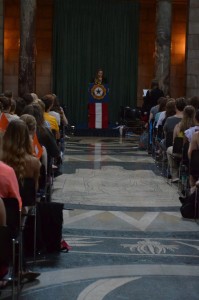 By Daria Risch
The Gubernatorial Debate was held at 8:00 p.m. at the green space outside of Sandoz. The candidate representing the Nationalists was Taylor Schendt and representing the Federalists was Emma Redinger. The candidates were each given a chance to answer numerous questions with their honest opinion.
The first question proposed was, "How do you feel about getting paid more for overtime?" Schendt's response was, "Overall, I feel that if you're working more you should get paid more." Redinger's belief is that if someone is working overtime, they should receive the pay for it. On the other hand, it is important to keep in mind that small businesses have set hours and may not be able to afford to pay overtime.
The second question enquired was, "How do you feel about standardized testing?" Redinger's reply was, "I believe that we should back away from standardized testing. I think we should do this because it adds to the amount of stress the students go through. I also believe that standardized testing should not determine the amount of success or funding a school has." Schendt's comeback was, "I do not agree with the fact that the amount of funding a school receives is based upon their standardized test scores. I believe it should be based upon the population of the school."
One of the final questions presented to the candidates was, "What would you consider doing about the towns that don't have hospitals nearby?" Schendt's belief is that there should be a trained specialist in or at least 15 minutes away from each town. She also believes that the state should offer special training classes to give the opportunity of learning to help in these situations. Redinger's answer was, "I think we should have a trained specialist with the patient up until arrival to the hospital."
Several excellent questions were asked at the Gubernatorial Debate. A few other topics discussed were strengths that made them strong candidates for the position of governor and their feelings towards the new license plate. Emma Redinger and Taylor Schendt did a fantastic job responding to the questions given to them. They kept it very professional and gave each other equal competition to work with.